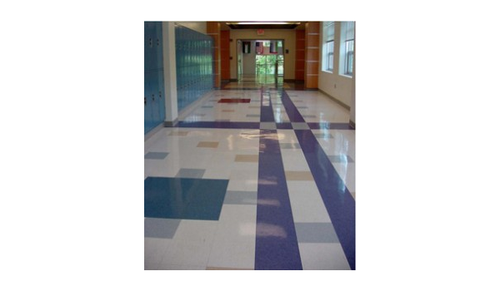 Why buy resilient flooring?
Resilient flooring is an amazing material if you're looking for something that is both a great value and long lasting.  It is softer under foot than ceramic tile and wood, which makes it a great choice in kitchens where you'll spend a lot of time standing. Its ability to hold up under the harshest of conditions is why it is used frequently in commercial settings.

Resilient flooring is a great solution for residential applications as well. Breakthroughs in digital printing allow manufacturers to create the look of expensive stone, wood and ceramic floors with stunning realism at a fraction of the cost of the real material.

Another huge benefit of using resilient flooring is the easy maintenance. It is highly water and stain resistant. You will only have to sweep up dirt and debris periodically. If you need a deeper clean, you only need to use a damp mop. Follow all manufacture cleaning instructions.
Types of resilient flooring
There are different materials available depending on the setting you will be using the flooring in. For example, if you are looking to floor a residential area like your home kitchen you will likely choose one of the following materials:
Residential sheet vinyl
Luxury Vinyl Tile (LVT)
Vinyl Tile
Linoleum
If you are in need of flooring for a commercial setting you will have some different options. Your material options for a project like that will include:
Commercial Sheet Vinyl
Linoleum
Vinyl Composition Tile (VCT)
Bio-Based Tile (BBT)
Rubber Sheet
Rubber Tile
We sell only the best brands of resilient flooring available. Call or stop in today to see our selection of resilient flooring.